Please refer to some of our cases where our innovative approach joined technology and business.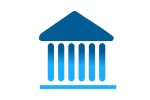 A bank in the Republic of Croatia


Project: Connection of two computer centers


Summary: In cooperation with our local business partner for the Republic of Croatia we delivered a solution for the connection between the primary and secondary computer center of a Croatian bank. The connection allows the transfer of 8x 16Gb FC and 8 x 10Gb FE over one single optical fiber line. Doubling of the connection over a second separate optical fiber line ensures redundancy (diminishing the risk of connection failure) and aggregated transfer performance  (double transfer capacity).