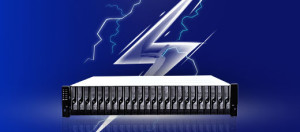 Infortrend has recently launched its EonStor DS 4000 Gen2, the world's 1st storage system to integrate Intel's newest Broadwell-DE processor, which was designed especially for enterprise SAN and cloud storage. Thanks to this powerful integration and enhanced hardware, EonStor DS 4000 Gen2 systems deliver a 20% higher performance than any EonStor DS family system.
This integration, combined with 128MB memory, dual host board, all-around 12Gb/s SAS support and SSD optimization features, enables EonStor DS 4000 Gen2 to deliver 11,000MB/s read and 5,500MB/s write throughput, as well as end-to-end 600K IOPS.
Moreover, the EonStor DS 4000 Gen2 systems offer great connection versatility with support for a variety of hybrid hosts as well as integrated support for VMware SRM and VASA and OpenStack, making them ideal for applications such as data mining, database, VDI, media editing and cloud.
Available as a 2U 24-bay small form factor (SFF) high density system, EonStor DS 4000 Gen2 saves data center space and lowers energy bills. Other form factor models will be released later this year.
For more details about EonStor DS 4000 Gen2, please click here.