Maribor, March 22, 2019. XENYA d.o.o. and the University of Maribor have signed a contract for the supply of equipment for the project "Upgrading national research infrastructure HPC – RIVR", within which a national supercomputer center will be established in Maribor.
XENYA d.o.o. was selected as the most favorable supplier in the public tender and will thus supply network equipment, disk capacity, GPU computing nodes and servers and computing nodes. This part of the project is designed to be a comprehensive computing center within the container, and the equipment is selected so that it can be integrated later as part of a large computing center. Xenya is obliged to install the equipment from this contract in the ninety days on the site of a special computer container.

The total value of the contract is EUR 1,692,349.84, while a fully-fledged supercomputer center will cost 20 million euros. 20% will be provided by the ministry in charge and the 80% by the EU. The supercomputer center, which will eventually be established in IZUM, will be the most powerful in the country and amongst the world's top 100.
For the experimental HPC, the Computer Center of the University of Maribor (RCUM) will take care. RCUM provides top-notch information technology services for approx. 1700 employees, hundreds of external co-workers and more than 20,000 students. RCUM is one of the leading institutions in the field of identity management and access.
The applicant and coordinator of the project "Upgrading National Research Infrastructures HPC – RIVR" is the University of Maribor with two consortium partners – the IZUM Institute of Information Science and the Faculty of Information Studies in Novo mesto. The entire project is worth EUR 20 million, and it runs from March 1, 2018 to September 15, 2020. It is a significant upgrade of existing state-of-the-art HPC capabilities with its own hardware and software architecture design. The project is financed by the European Union from the European Regional Development Fund (80%) and the Ministry of Education, Science and Sport (20%), under the Operational Program for the Implementation of the European Cohesion Policy 2014-2020. The implementation of the project will significantly contribute to the fulfillment of the objectives of the EuroHPC Joint Undertaking Declaration.
The acquisition will ensure the establishment of an openly accessible research infrastructure and environment, and promote research activities and their transfer to the economy. The results of the cooperation will be widely and non-discriminative disseminated on the basis of Open Research Data.

More information about the project is here (TV report), here and here.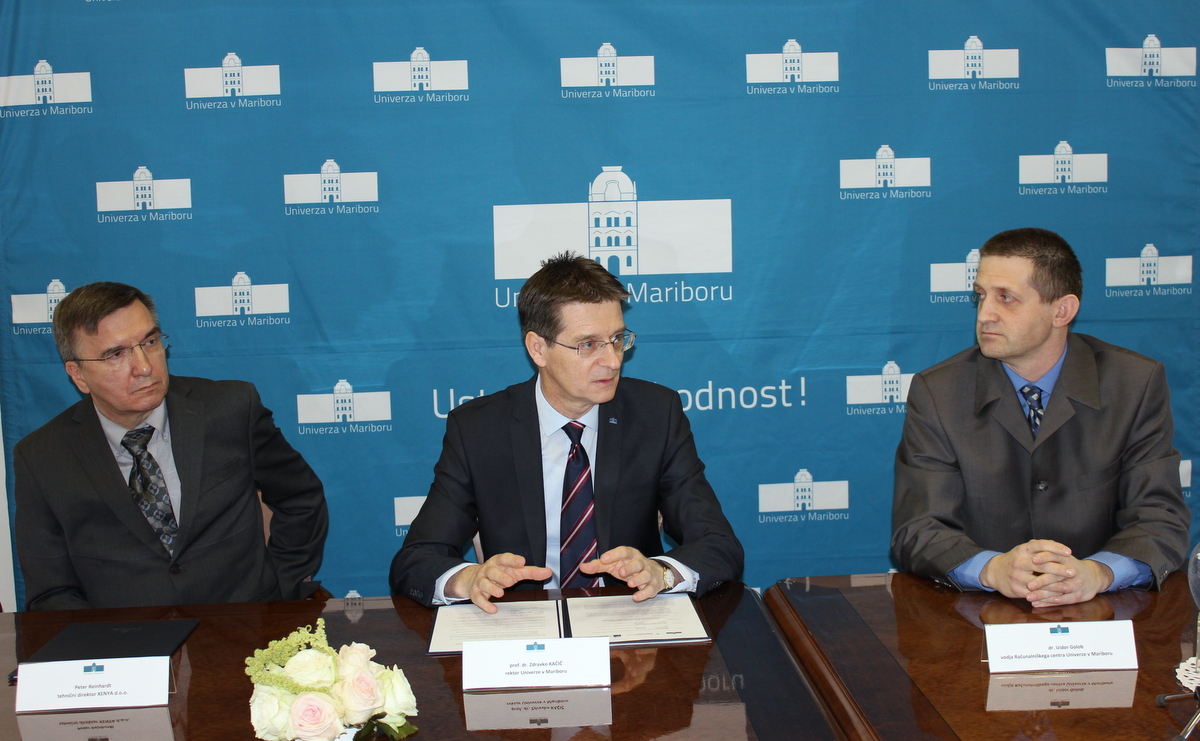 Signing the contract at the University of Maribor, from left to right Peter Reinhardt, technical director of XENYA d.o.o., prof. dr. Zdravko Kačič, Rector of the University of Maribor, and dr. Izidor Golob, Head of RCUM.